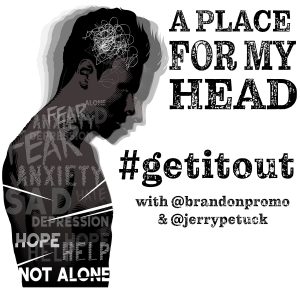 This week on A Place For My Head, Brandon Thompson and Jerry Petuck continue their conversation from last week about the racial equality and civil rights issues going on in the country and how it's affecting everyone.
Then, the guys discuss the story of University of Tennessee freshman quarterback Brian Maurer. If you aren't familiar with his story, Brian made a post on Instagram on May 1st, the first day of Mental Health Awareness Month, explaining how he'd planned to commit suicide on January 22nd of this year but call it fate, call it Divine Intervention, call it what you will…. a call from his mother at just the right time saved his life.
The story was first heard by Jerry on the Randy Cross Podcast, hosted by the three-time Super Bowl champion and College Football Hall Of Famer. Randy joins the podcast to discuss Maurer's story, how mental health has always been perceived in the locker room, and to share some great stories about his Hall Of Fame career.
If you feel you are in crisis, please call the National Suicide Prevention Lifeline at 1.800.273.TALK (8255).
Follow us on social media:
A Place For My Head: Website Facebook
Brandon Thompson: Facebook Instagram Twitter
Jerry Petuck: Facebook Instagram Twitter
Make sure to visit the A Place For My Head website!
Subscribe, rate, and review A Place For My Head on Radio Influence, Apple Podcasts, Stitcher, TuneIn Radio, Google Podcasts, iHeartRadio, and now on Spotify!
Podcast: Play in new window | Download | Embed