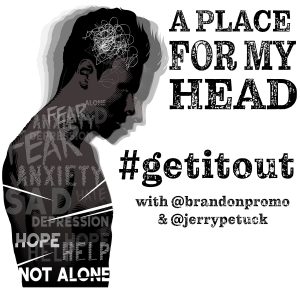 We're angry. You're angry. The nation is pissed off…..and rightfully so. There are peaceful protests. There are riots. There is looting. The mental health of the nation is in shambles. The murder of George Floyd in Minneapolis was the straw that broke the proverbial camel's back but this has been brewing for decades.
This week on A Place For My Head, Brandon Thompson and Jerry Petuck sit down with DJ Ekin, who relates to this issue on a million different levels, for an open, honest, and brutally raw conversation about where we are as a nation, how we got there, why we're here, and how do we fix it.
One thing we take pride in on this podcast is discussing the tough subjects in an open and honest way. That's exactly what we do today.
If you feel you are in crisis, please call the National Suicide Prevention Lifeline at 1.800.273.TALK (8255).
Follow us on social media:
A Place For My Head: Website Facebook
Brandon Thompson: Facebook Instagram Twitter
Jerry Petuck: Facebook Instagram Twitter
Make sure to visit the A Place For My Head website!
Subscribe, rate, and review A Place For My Head on Apple Podcasts, Stitc her, TuneIn Radio, Google Podcasts, iHeartRadio, and Radio Influence.com!
Podcast: Play in new window | Download | Embed