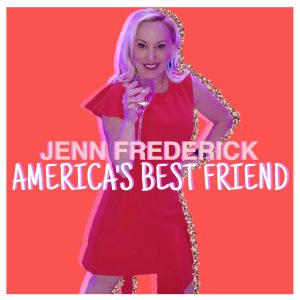 Let's get this party started. In episode one of AMERICA'S BEST FRIEND, we get a real look into the home quarantined family. A hysterical look.
Jenn Frederick has a manchild teenager and a daughter in elementary school. Jenn is still leaving the house before the family wakes up to deliver the morning news in Philadelphia. Meaning, the experience at the Frederick house could not be more insane.
Add in a daily dash of Momstalking on SNAPCHAT and you will see why Jenn is leaning on her girlfriends now more than ever.
Featured in this episode is Jenn's friend, Nikki. Nikki is a High School English teacher with 3 daughters of her own. Nikki's Mom adds a touch of insight as well. Short, sweet and sassy… this episode is just like Jenn herself!!
Make sure to follow Jenn Fredrick on Facebook, Twitter, and Instagram
You can find the show on Apple Podcasts, Stitcher, Google Podcasts, and TuneIn Radio
Podcast: Play in new window | Download | Embed