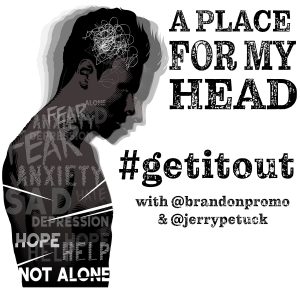 This week on A Place For My Head, Brandon Thompson and Jerry Petuck chat with Jenny Dempsey of CustomerServiceLife.com, a website she created to help the mental health of those in the customer service industry. It's a great concept and an eye-opener about some of the things that go on in call centers, in retail, and other areas of customer service.
Jenny talks about how the website came to be, why she decided to become self-care coach for those in the industry, her own battles with an eating disorder, depression, and suicidal thoughts, and so much more.
Jenny's awesome and we know you'll love her as much as we do!
If you feel you are in crisis, please call the National Suicide Prevention Lifeline at 1.800.273.TALK (8255).
Follow us on social media:
A Place For My Head: Website Facebook
Brandon Thompson: Facebook Instagram Twitter
Jerry Petuck: Facebook Instagram Twitter
Make sure to visit the A Place For My Head website!
Subscribe, rate, and review A Place For My Head on Apple Podcasts, Stitc her, TuneIn Radio, Google Podcasts, iHeartRadio, and Radio Influence.com!
Podcast: Play in new window | Download | Embed