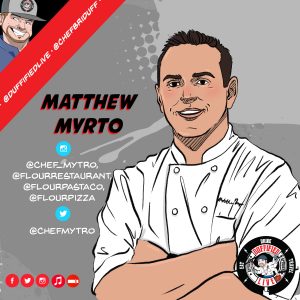 Cleveland Chef Matt Mytro started out selling t-shirts and hats under the "Stove Monkey" brand and has since graduated into the Executive Chef of Flour Restaurant & Catering, partnering with Paul Minello. When Chef Minnillo combines his traditional Italian flavors with Chef Mytro's innovative culinary creations, magic happens. The product of their unique recipes are flavors reminiscent of your most memorable meals, with a decidedly different twist. The result is Flour Restaurant.
Chef Duffy and Chef Mytro get back to basics with the operations of the kitchen and talk about what succeeds and what does not. They go OG on each other as then begin then "Old Man" bitching process that sometimes ensues when chefs start chatting.
It's an awesome conversation with one of Cleveland's best!
Follow Chef Brian Duffy on Twitter and on Facebook.
Check out his website to learn more about him, to find his products, and some incredible recipes!
Listen to the Duffified Live show archive on Radio Influence!
Subscribe to the show on Apple Podcasts, Stitcher, TuneIn Radio, Google Play, and now on the iHeartRadio app! Make sure to rate and review!
Podcast: Play in new window | Download | Embed