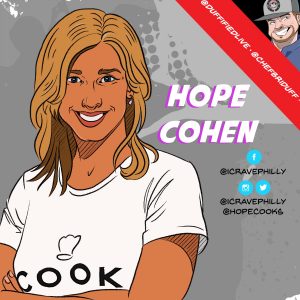 Hope Cohen is a woman whose passion turned into a career and a full-blown educational experience.
Loving food and creating dishes and experiences don't always come together for most but for Hope, it sure did. She's a Philly native, a mom, a home chef, an author, a TV host, a recipe developer, a traveler, and a pretty great lady to talk to!
This week, I chat with Hope about the path that has led her to live a life travelling and tasting food, hosting a long-running cable series that highlighted some of the country's greatest chefs and culinarians, her book, her hobbies, and her new ideas that will continue to feed her belly and her brain with a constant source of food borne knowledge!
Follow Chef Brian Duffy on Twitter and on Facebook.
Check out his website to learn more about him, to find his products, and some incredible recipes!
Listen to the Duffified Live show archive on Radio Influence!
Subscribe to the show on Apple Podcasts, Stitcher, TuneIn Radio, Google Play, and now on the iHeartRadio app! Make sure to rate and review!
Podcast: Play in new window | Download | Embed