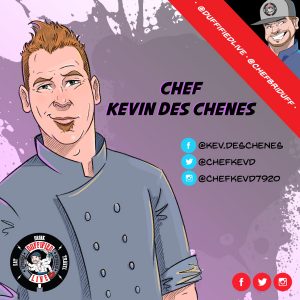 Chef Kevin Deschenes is known for his multiple TV appearances on Food Network and almost every other network there is! Kev D and Chef Brian Duffy talk about the last few weeks on the road during the festival season. Between Mohegan Sun and Ilani Casino events, we both spent a ton of time travelling across the country, cooking, eating, drinking, gambling, and having a blast!
Our conversations go from politics to work to social media to everything food! Kev is a riot and I'm glad that we get to spend some fun times sharing our craft & travelling the country!
Check out Kev in Las Vegas this year at the Nightclub & Bar Show!
Follow Chef Brian Duffy on Twitter and on Facebook.
Check out his website to learn more about him, to find his products, and some incredible recipes!
Listen to the Duffified Live show archive on Radio Influence!
Subscribe to the show on Apple Podcasts, Stitcher, TuneIn Radio, Google Play, and now on the iHeartRadio app! Make sure to rate and review!
Podcast: Play in new window | Download | Embed