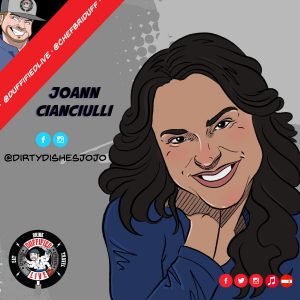 I walked on set for my first episode of Bar Rescue and was greeted by an intense smiling face. Little did I know, twelve years later, she would not only be an integral part of my business but also a friend.
JoAnn Cianciulli, a native New Yorker who studied film, made the move to Los Angeles at the age of 22 and decided that there was more fun with food than there was in casting and just production. Hence, the term "Culinary Producer" and Dirty Dishes Media were born.
Jo has worked on such shows as Top Chef, Bar Rescue, Food 911, and so many more. With thirteen books under her belt, I get to work with Jo travelling all over the country working with GE in our spare time!
Jo has been a constant source of professional friend and I'm so excited for her future!
Follow Chef Brian Duffy on Twitter and on Facebook.
Check out his website to learn more about him, to find his products, and some incredible recipes!
Listen to the Duffified Live show archive on Radio Influence!
Subscribe to the show on Apple Podcasts, Stitcher, TuneIn Radio, Google Play, and now on the iHeartRadio app! Make sure to rate and review!
Podcast: Play in new window | Download | Embed