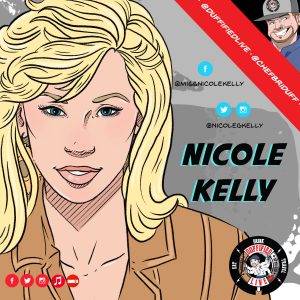 This week's show was something that Chef Brian Duffy has been wanting to do for a while!! One day chef was flipping through Instagram & saw a video of a beautiful young woman interacting with a young girl who was about 3 or 4.
This little girl had such a look of happiness on her face as she looked at this young woman because they both had a similar appearance… 1 hand.
Chef Brian Duffy immediately contacted Nicole Kelly and never imagined how much he would love talking to someone! A conversation about everything from school in Iowa and growing up in a town of 10k people to college and having to navigate the world with only one hand!
Nicole Kelly stepped into the roll of public figure after winning the 2013 title of Miss Iowa and going on to compete at the 2014 Miss America Pageant. She gained attention for being one of only a few competitors to have ever competed with a physical disability. After working for a year as Miss Iowa and traveling across the country to advocate for those living with a disability, she signed with a professional speaking agent and started her own business: Nicole G. Kelly, LLC. Nicole has proudly spoken at hundreds of K-12 schools schools, given educational lectures at universities across the country, and served as the emcee at the Kennedy Center's celebration for the 25th Anniversary of the Americans with Disabilities Act.
It is Nicole's mission to educate as many people as possible about those living with a physical difference. Nicole is a proud ambassador for CoApt, an advanced control solution designed to enhance the functionality of a powered myoelectric prosthesis for those with upper limb loss or limb difference. This summer Nicole completed her masters degree in broadcast journalism at Northwestern University's Medill School of Journalism.
This episode is brought to you by eLiquid. Visit eLiquid.com/DUFFY and use the promo code DUFFY to get 20% your first order!
Follow Chef Brian Duffy on Twitter and on Facebook.
Check out his website to learn more about him, to find his products, and some incredible recipes!
Listen to the Duffified Live show archive on Radio Influence! Subscribe to the show on Apple Podcasts, Stitcher, TuneIn Radio, and now on Google Play and make sure to rate and review!
Podcast: Play in new window | Download | Embed