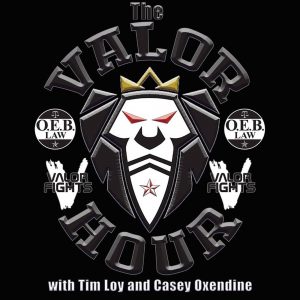 On this week's episode of The Valor Hour, Tim Loy and Casey Oxendine are joined by Vince Ferrara, Allan Poole, and Mark Laws to recap what happened last weekend at Valor Fights 45.
Following the conclusion of their recap, Tim and Casey speak with four fighters that will be competing next weekend at Valor Fights 46 in Nashville. First, they chat with Christian Ocon about his fight against Dre Miley.
Then, they are joined by Pauline "Pita" Macias to preview her matchup against Jennifer Clausius, who they talk to following the interview with Pita. And finally, they chat with Jacob Kilburn about his fight against Edward Massey.
Thanks for listening and we would appreciate if you would like, and share the podcast with your friends.
Follow Valor Fights on Twitter: @ValorFights
Follow Tim Loy on Twitter: @TzLoy
Follow Casey Oxendine on Twitter: @CaseyOxendine
Subscribe to The Valor Hour on Apple Podcasts, Stitcher, and Google Play
Podcast: Play in new window | Download | Embed