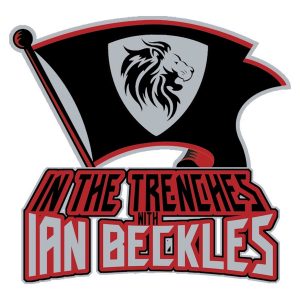 The Tampa Bay Buccaneers have started training camp for the 2017 NFL season and former NFL offensive lineman Ian Beckles is back for the second episode of "In The Trenches."
On this episode of Ian's football podcast, he starts off by talking about how NFL players are treated today in comparison to when he played in the NFL. He talks about what he went through during training camp in his playing days compared to what current players are going through.
Now you may have seen that Ian was out at the Buccaneers practice on Saturday as he was the DJ for Street Laced. First, Ian talks about how hot it was on Saturday and talks about some of the one-sided drills you will see during a NFL practice.  Speaking of being at One Buc Place for training camp, Ian raves about the indoor practice facility that the Buccaneers are currently building and relates it to the practice facility he used while he played for the Philadelphia Eagles.
Then, he gets into what's going on with the current Tampa Bay Buccaneers roster from Doug Martin to the kicker battle going on between Roberto Aguayo and Nick Folk. Ian tells you about the comments head coach Dirk Koetter said about Martin and how he hopes it works out for Aguayo. Also, Ian tells you which players need to rise up this year for the Buccaneers and if he had to buy one Buccaneers jersey, it would be Kwon Alexander.
Along with discussing the Buccaneers, Ian chats about other topics going on in the NFL from Los Angeles Rams defensive tackle Aaron Donald holding out, linebacker James Harrison still going strong with the Pittsburgh Steelers, and quarterback Colin Kaepernick still being a free agent. Plus, he talks about Hard Knocks and why he loves the HBO series, "Ballers."
Subscribe, Rate, and Review the podcast on Apple Podcasts, Stitcher, Google Play, and TuneIn Radio.
Follow Ian Beckles on Twitter: @IanBeckles
Submit your question to next week's podcast by emailing Ian (IanBeckles@RadioInfluence.com) your written question or submit your question in audio form.
Podcast: Play in new window | Download | Embed