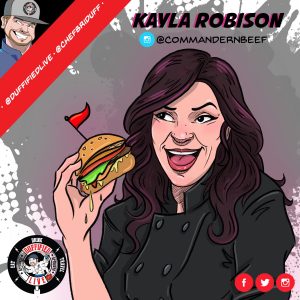 Duffified Live this week is a bit longer than normal due to a CRAZY week in Vegas!
Chef Brian Duffy had the pleasure of working side by side with Chef Kayla Robison of Nation Kitchen & Bar in Cincinnati, OH during The Nightclub & Bar Show at the Food & Beverage Innovation Center, the first of its kind for this event. Chef Robison is a North Dakota native and her passion for the craft of cooking is unmatched!
She discusses her current and upcoming projects, her adventures, her insane life, and so much more with Chef Duffy on this week's Duffified Live!
Thanks for listening and don't forget to subscribe, rate, and review the show on iTunes and Stitcher!
Follow Chef Brian Duffy on Twitter and on Facebook.
Check out his website to learn more about him, to find his products, and some incredible recipes!
Also, do us a favor! Subscribe to the show on iTunes, Stitcher, TuneIn Radio, and now on Google Play and make sure to rate and review!
Podcast: Play in new window | Download | Embed