REGIONAL MMA POWERHOUSE VALOR FIGHTS BRINGS
"THE VALOR HOUR" TO THE RADIO INFLUENCE FAMILY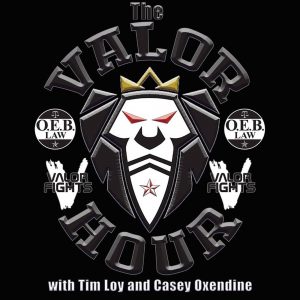 Radio Influence is very pleased to welcome "The Valor Hour," hosted by Valor Fights' President/Matchmaker Tim Loy and color commentator Casey Oxendine to the Radio Influence family.
Valor Fights, founded in 2007 and based in Tennessee, is an MMA promotion streamed live on FloCombat that takes pride in showcasing the top rising talent in the Southeast while providing first class live events for their rapidly growing fan base.
"The Valor Hour" will focus on the current happenings within Valor Fights, the Southeast region, and national MMA scenes. The show will feature recaps, previews, predictions, interviews, and much more.
"We are very excited to kick off The Valor Hour podcast. Casey and I talk so much MMA anyway, it felt like a natural transition to do this in a public forum where we can engage our fans and keep them up to date on what's going on locally, regionally, and nationally in the MMA world," said Tim Loy, President of Valor Fights.
"I have been coordinating interviews with Valor Fights for the past couple of years and I'm excited to welcome Tim Loy and Casey Oxendine to the lineup of Radio Influence podcasts," said Jason Floyd, CFO of Radio Influence. "Tim and Casey will give listeners a unique look into Valor Fights and Tim will be able to give listeners a look into what goes through the mind of a promoter when putting together a fight card."
"The Valor Hour with Tim Loy and Casey Oxendine" will debut in March on iTunes, Stitcher, TuneIn Radio, and RadioInfluence.com.
The Radio Influence family of shows include a variety of both terrestrial radio hosts and established internet providing a great mix and different perspectives on sports, entertainment, lifestyle, and more. All programs can be found on iTunes, Stitcher, TuneIn Radio, and RadioInfluence.com.
For more information, contact Jerry Petuck at Petuck@RadioInfluence.com
Podcast: Play in new window | Download | Embed