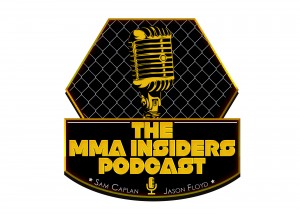 Sam Caplan and Jason Floyd kickoff this edition of The MMA Insiders Podcast by discussing the fallout of UFC heavyweight champion Fabricio Werdum and Cain Velasquez pulling out of next week's UFC 196 main event.
Also on this week's show, the guys talk about the performance by former UFC women's bantamweight champion Ronda Rousey on Saturday Night Live and current UFC women's bantamweight champion Holly Holm signing an endorsement deal with a supplement company that sells product deemed illegal by the Food and Drug Administration.
Other topics from this week's show includes Edmund Tarvedyan getting his license revoked by the California State Athletic Commission, Titan FC fighters getting paid, Kansas Athletic Commission weigh-in policy for Bellator 150, potential date of Bellator's return to the Mohegan Sun, and Andre Pederneiras responding to performance enhancing drug allegations.
Follow Sam Caplan on Twitter: @SamCaplanMMA
Follow Jason Floyd on Twitter: @Jason_Floyd
Subscribe to The MMA Insiders on iTunes and Stitcher
Podcast: Play in new window | Download | Embed