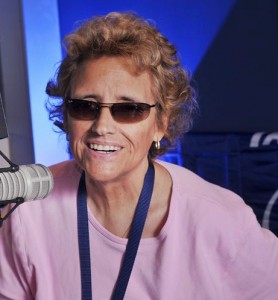 It's Thanksgiving Week so prepare yourself for a double helping of The Babe!!!!
This week, ESPN's Linda Cohn joins The Babe and lets you catch a glimpse at the woman behind the microphone. She and The Babe have been close friends for over 20 years and you can hear the respect and admiration of both toward each other. They share war stories from their broadcasting days and Linda chats about her love for hockey and what exactly she did when she got to spend a little time with the Stanley Cup.
Then, Robert Littal from Black Sports Online.com joins The Babe for a very open, very candid talk about what's going with the University of Missouri, the Ferguson situation, and society as a whole. They also chat about Robert's article on the perception of Cam Newton. He poses the question, "If Cam Newton is a thug, what do you think society thinks of black men?" It's a very interesting discussion and one you shouldn't miss.
All of that and more on this week's Thanksgiving extravaganza!
Follow The Fabulous Sports Babe on Twitter: @realsportsbabe
Subscribe to the Podcast on iTunes and Stitcher.
Follow Linda Cohn on Twitter at @lindacohn and at LindaCohn.net!
Follow Robert Littal on Twitter at @BSO and at Black Sports Online.com.
Podcast: Play in new window | Download | Embed