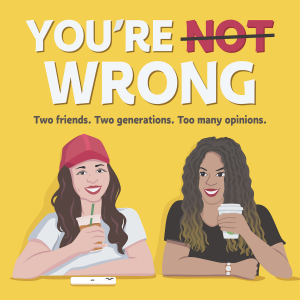 This week, Nicole leads off with a run-through of the VMAs, a Michael Myers appearance in Galveston, and a Gen X Files game: Do You Even Know This? Then in a Millennial Moment, Elisabeth walks Nicole through a history of one of Youtube's biggest stars – Jenna Marbles – whether she should've canceled herself, and what it's like to miss a favorite creator.
Thanks for listening! If you liked what you heard, make sure to rate, review, and subscribe. If you want more from us make sure to follow us on Twitter and Instagram @thenotwrongpod.
Subscribe, Rate, and Review to "You're Not Wrong" on Apple Podcasts, Spotify, iHeartRadio, Stitcher, or Google Podcasts.
Podcast: Play in new window | Download | Embed