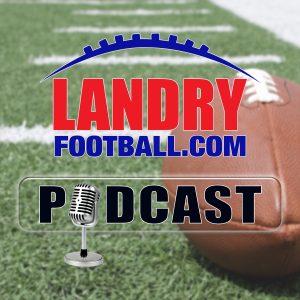 The Landry Football Podcast is a look at the NFL and College game where veteran coach and scout Chris Landry offers his unique insights into players, coaches, teams and schemes as he breaks down the film and lets you on the inside of what is going on in the game.
From what he sees on tape to what he hears in the scouting and coaching community, this is where you will learn the latest.
To get the EXCLUSIVE and highly SENSITIVE inside information, become a member of LandryFootball.com where you can not only get the film room analysis and Scouting Reports but have access to what is really going on in the College and Pro game.
About Chris Landry
Chris Landry has spent a lifetime in football, having served as Coach, Scout and Administrator at the College Football and NFL levels.
Currently, Chris operates his own Coaching and Scouting Consulting business serving both NFL organizations and College Football programs in the areas of pro and college personnel, recruiting, advance scouting as well as coaching assessment, development and searches.
Prior to venturing out on his own, he served as both a Pro and College Scout for the Houston Oilers and Tennessee Titans while also serving as the Coordinator of their Scouting department.
Landry was selected to serve as the Coordinator of the NFL Scouting Combine in 1993 where he oversaw the selection and operation process of the top draft prospects.
Chris began his NFL career with the Cleveland Browns working on the coaching staff as well as in both pro personnel and college scouting.
Landry began his coaching career as a student assistant at LSU in the mid 1980's, working his way up to a full time position before being hired by Bill Belichick and the Browns in 1992.
While working as a young coach at LSU, Landry also maintained a part time scouting position with one of the NFL's scouting arms, BLESTO.
You can hear Landry frequently on radio and TV all around the country analyzing the NFL and College Football game.
About Landry Football.com
LandryFootball.com was formed as a resource for the serious football fan, media and anyone interested in gaining access to views from an experienced College Football & NFL Coach, Scout and Administrator.
This platform will analyzing everything from daily topical news to in depth scouting and coaching analysis on College & NFL Players, Coaches, Teams and Schemes.
The goal is to take the fan INSIDE to hear how a coaching, scouting and front office staff evaluates and coaches it's players. So, instead of getting just the usual football gossip, here you will get not only the inside information but how those decisions were made.
What makes Landry Football different?
Simply put, we will take you where others cannot—-inside the film room, coaching staff meetings, draft meetings, practice field, on the sideline, on the road scouting, etc.
While everyone has a right to an opinion, an opinion is only as relevant as the credentials behind it. In essence, now you as a fan can have similar access to what NFL teams and College programs have. Some people are involved in the College game but not as much in the pro game or vice versa. Others have background in the game but no longer work in the game aside from their media commitments. With LandryFootball.com, you get someone both experienced and CURRENTLY working in the NFL and College Football business. This is something that sets up apart from the others.
Listen to Landry Football on Radio Influence or subscribe to the show on Apple Podcasts, Stitcher, TuneIn Radio, and Google Play!