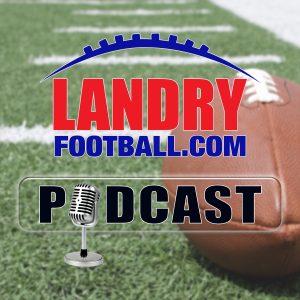 While the back-and-forth discussions regarding the Big 10's decision to change their policy on the fly, no one should be surprised as the College Game has always been about selecting teams for different reasons.
Veteran scout/coach Chris Landry takes you briefly through how this all developed through the years from the start of the sport and where it is likely headed in the future.
He also answers your questions in the Chat Room and touches on the latest Coaching discussions going on at Michigan and Texas.
This episode of The Landry Football Podcast is presented by fuboTV. Want to cut the cord but you're worried about missing out on live TV? Get the best of both worlds. With fuboTV, you can watch live and on-demand with no bulky set-top box. There's no risk to try it out — get full access to fuboTV for a few days for FREE. Right now, fuboTV is offering our listeners a free trial AND 15% off your first month by going to fubotv.com/LANDRY. There are no contracts and you can cancel anytime!
Follow Chris Landry on Twitter and make sure to visit LandryFootball.com!
Subscribe to the Landry Football Podcast on Apple Podcasts, Stitcher, TuneIn Radio, Google Play, the iHeartRadio app, and now on Spotify!
Podcast: Play in new window | Download | Embed