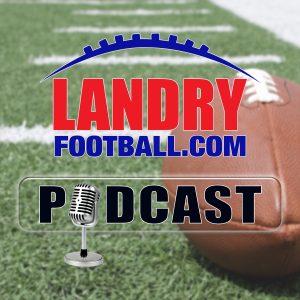 It's early in the football season and already the media and fans typically make snap and inaccurate judgments on players, coaches, and teams. Chris tells you how and why those thoughts are so inaccurate and rarely come to pass. See what some of the "upsets" truly mean and whether you should expect that to continue to differ depending on various styles of play between teams.
Learn the game from a veteran Coach/Scout in the College/NFL game. College programs and NFL teams turn to him as a consultant so you can get some of what he delivers and make yourself a more knowledgeable fan by becoming a member of LandryFootball.com and by listening to the Landry Football Podcast.
This episode of the Landry Football Podcast is presented by FanDuel. This season, FanDuel is now offering Daily Snake Drafts. It's the simplest way to try daily fantasy. Draft live just like season-long fantasy but with winners every game day! Just go to fanduel.com/landry to get up to a $500 bonus instantly when you make your first deposit with the 20% deposit match!
Follow Chris Landry on Twitter and make sure to visit LandryFootball.com!
Subscribe to the Landry Football Podcast on Apple Podcasts, Stitcher, TuneIn Radio, Google Play, the iHeartRadio app, and now on Spotify!
Podcast: Play in new window | Download | Embed