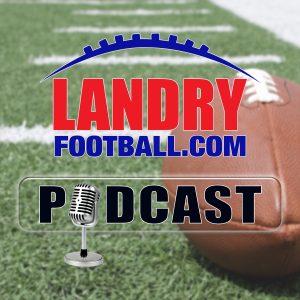 Veteran scout/coach Chris Landry takes you through the lives of coaches, scouts, and administrators at both the college and NFL levels and how their jobs have changed during this difficult time. Much like everyone, it's become a virtual world but it's much more than that as he explains.
Also, Chris explains what went on behind the scenes with the Leonard Fournette situation in Jacksonville and takes you inside how things like this play out from someone who has had to do it several times.
Today's episode of the Landry Football Podcast is presented by FanDuel. This season, there's a brand new way to play fantasy football on FanDuel. Introducing Best Ball contests, the simplest way to play season-long fantasy. In a Best Ball contest, there are no lineups to set, no waivers to claim, and no trades to make. Simply draft 20 players at the start of the season. Then, every week, you'll automatically get points for your top 9 performers at set positions. At the end of the season, the teams with the top scores take home the cash. You can enter a free contest or play for as little as a dollar! If you're new to FanDuel, you can even get a 20% bonus on your first deposit — up to 500 bucks — when you sign up at fanduel.com/LANDRY. Start drafting for best ball at FanDuel now!
Follow Chris Landry on Twitter and make sure to visit LandryFootball.com!
Subscribe to the Landry Football Podcast on Apple Podcasts, Stitcher, TuneIn Radio, Google Play, the iHeartRadio app, and now on Spotify!
Podcast: Play in new window | Download | Embed