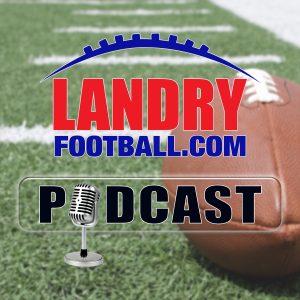 With the Draft taking place throughout the entire weekend, veteran scout/coach Chris Landry takes you through how the final stages of preparations lead to decisions all weekend including if and when to trade and how to consummate a deal and get the proper value. Trade Charts that you read online are bogus, outdated, and inaccurate and Chris tells you how they are done.
Also, he also explains what happens on Thursday evening in preparation for Friday's second and third rounds and again on Friday evening as you prepare for Saturday's fourth through seventh rounds.  It's a calculated and organized process behind the scenes that fans don't get to see which is why Chris is giving you a peek behind the curtain.
Learn more about this Draft and the whole process with veteran NFL Scout Chris Landry as your guide.
This episode of the Landry Football Podcast is brought to you by Skylight Frame. Are you looking for the perfect gift for your mom or loved one? Nowadays, staying in touch with those we love is more important than ever. And the easiest way to do it is with Skylight, a photo frame you can email photos to—any time, from anywhere. Now, as a special holiday offer, you can get $10 off your purchase of a Skylight Frame when you go skylightframe.com/FOOTBALL and enter code FOOTBALL.
Follow Chris Landry on Twitter and make sure to visit LandryFootball.com!
Subscribe to the Landry Football Podcast on Apple Podcasts, Stitcher, TuneIn Radio, and Google Play.
Podcast: Play in new window | Download | Embed