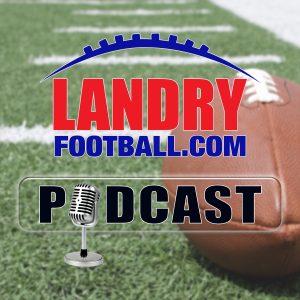 Whether it's a coaching search, recruiting, free agency, or the draft, using the media to create an advantage for your organization can be very helpful. It can also be embarrassing for the lazy media member. Learn more about how teams use this process.
He also answers your questions so be sure to submit yours in for a future addition.
Learn the game from a coaching, scouting, and football administrative background by joining veteran coach/scout Chris Landry every Thursday on the Landry Football Podcast.
This episode of the Landry Football Podcast is brought to you by CBS Sports HQ, a network that streams live 24/7, and they have coverage that's just focused on the game. No fake debates. No politics. Just sports for real sports fans. Open the CBS Sports app and watch any time from anywhere on your phone or at home on your Apple TV, Roku or Fire TV. It couldn't be easier. Download the CBS Sports app and watch CBS Sports HQ today!
Follow Chris Landry on Twitter and make sure to visit LandryFootball.com!
Subscribe to the Landry Football Podcast on Apple Podcasts, Stitcher, TuneIn Radio, and Google Play.
Podcast: Play in new window | Download | Embed