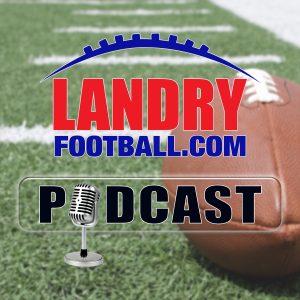 Veteran scout/coach Chris Landry takes you through the years of Alabama & LSU and sets up this Saturday's great matchup by taking you inside the strategy and the players.
He also takes you through the history of this game and discusses if this is even a rivalry or just two good programs that have been one sided. He also answers your question as he does each podcast.
Get a view of the game of football from a veteran coach/scout.
This episode of the Landry Football Podcast is powered by HelloFresh and ExpressVPN. HelloFresh makes cooking delicious meals at home a reality, regardless of your comfort in the kitchen. For a limited time only, get 9 free meals with HelloFresh. Go to HelloFresh.com/LANDRYFOOTBALL9 and enter LANDRYFOOTBALL9. With ExpressVPN, protect your online activity now, learn more about their International Game Pass so you don't miss a second of your favorite NFL team this season, and find out how you can get three months free at ExpressVPN.com/LANDRY.
Follow Chris Landry on Twitter and make sure to visit LandryFootball.com!
Subscribe to the Landry Football Podcast on Apple Podcasts, Stitcher, TuneIn Radio, Google Play, and now on the iHeartRadio app!
Podcast: Play in new window | Download | Embed