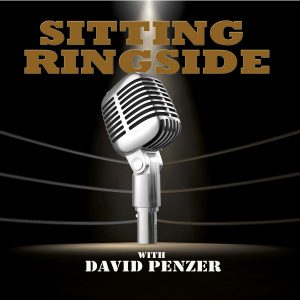 This week on Sitting Ringside, David Penzer is joined by the most famous wrestling journalist of all time, Dave Meltzer of The Wrestling Observer.
The guys talk the current state of the business, the Wednesday Night Wars between AEW and WWE, the ratings from the debut episode of All Elite Wrestling: Dynamite, how this battle is great for the wresting business, and so much more.
Thanks for listening and don't forget the and review the show on Apple Podcasts and Stitcher!
This episode of Sitting Ringside is sponsored by All Elite Wrestling on TNT, the revolution continues with All Elite Wrestling: DYNAMITE.   It's the most exciting professional wrestling in the last decade.   Made for wrestling fans, by the wrestlers themselves.  AEW flies higher, hits harder, and with their all-inclusive roster of super stars, they're breaking all boundaries. This week, it's the opening round of the tag team tournament with The Young Bucks against Private Party, live from Boston.  ALL ELITE WRESTLING: DYNAMITE, Wednesdays at 8/7c on TNT.
Make sure to follow David Penzer and "Sitting Ringside" on Twitter!
You can find the show on Apple Podcasts, Stitcher, TuneIn Radio, and Google Play!
Podcast: Play in new window | Download | Embed