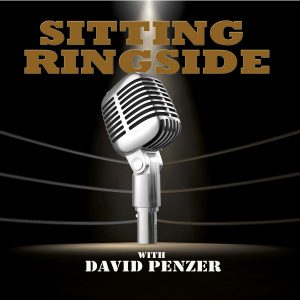 This week on Sitting Ringside, David Penzer is joined by wrestling personality Alicia Atout, who has a pretty cool background.
The two talk about her start as a music blogger at the age of 17 and how she parlayed that into the life of a social media influencer and a start in the wrestling business. She discusses some of the big named bands she's had the opportunity to interview, her work with Impact Wrestling, working the All In PPV last year, how an interview with Kenny Omega changed her life, and so much more.
Don't miss this fun conversation with Alicia, who is destined for great things!
Thanks for listening and don't forget the and review the show on Apple Podcasts and Stitcher!
This episode of Sitting Ringside is sponsored by All Elite Wrestling on TNT! It's the most exciting professional wrestling in the last decade.   Made for wrestling fans, by the wrestlers themselves. AEW flies higher, hits harder, and with their all-inclusive roster of super stars, they're breaking all boundaries. Chris Jericho, Cody and Brandi Rhodes, The Young Bucks, Nyla Rose and so many more. All Elite Wrestling.  A New League rises, Wednesday October 2nd at 8/7c on TNT.
Make sure to follow David Penzer and "Sitting Ringside" on Twitter!
You can find the show on Apple Podcasts, Stitcher, TuneIn Radio, and Google Play!
Podcast: Play in new window | Download | Embed