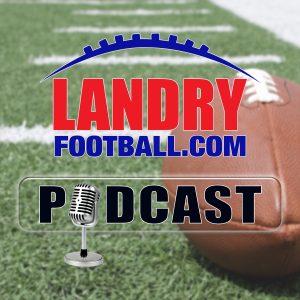 Veteran scout/coach Chris Landry has spent a lot of time explaining what the different responsibilities at each position. Now, he explains how to learn the best way to get teaching/coaching points across to your players individually and collectively.  Chris spends a lot of the offseason helping coaches improve their ability to teach their players and he touches on what that is for you.
It's a big weekend of football with all levels underway and Chris is here to give you an insight that can make you a smarter fan.
This episode of the Landry Football Podcast is brought to you by MyBookie. The place to bet on football every weekend. MyBookie has live, in-game betting on every NFL game and you can even bet on games that are already underway! If you're the kind of guy that likes to bet a little and win a lot, try a parlay. If all of your picks come through, you'll multiply your winnings. No matter how you bet, we know the NFL season is the best time of year. Go to MyBookie.ag now and they will double your first deposit up to $1000 if you use the promo code LANDRY. Bet. Win. Get Paid. MyBookie!
Follow Chris Landry on Twitter and make sure to visit LandryFootball.com!
Subscribe to the Landry Football Podcast on Apple Podcasts, Stitcher, TuneIn Radio, and Google Play.
Podcast: Play in new window | Download | Embed