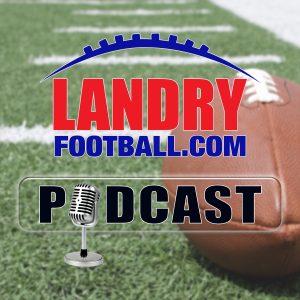 When you root for a team, you only see half the game. Today on The Landry Football Podcast, veteran scout/coach Chris Landry helps you get a better understanding of why certain teams fail and some have success. Very often people jump to conclusions based on outside chatter and preconceived notions. As an experienced coach and scout, he cuts through then nonsense and explains why some things turn out the way they do.
He also explains the proper way to recover a fumble and how to cross train players for multiple positions while not overloading them mentally.
Your football clinic continues on the Landry Football Podcast.  If you want to questions answered, send yours in today as Chris answers some every show.
Follow Chris Landry on Twitter and make sure to visit LandryFootball.com!
Subscribe to the Landry Football Podcast on Apple Podcasts, Stitcher, TuneIn Radio, and Google Play.
Podcast: Play in new window | Download | Embed