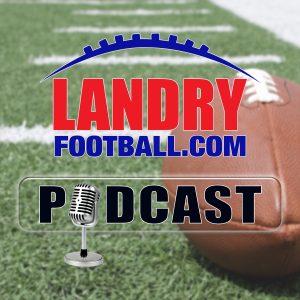 Today on The Landry Football Podcast, veteran scout/coach Chris Landry examines if there are more injuries in today's football than in the past. He has explained over the last few week how important football intelligence to performance on the field.
Now, he begins to explain how he test players football intelligence through his scouting process. Continue to learn more about the game than ever before from a veteran coach and scout who has done it for a few decades now.
Also, Chris gets you ready for the big weekend of College Football and tells you how the final roster decisions are made in the NFL this weekend.
Be sure to send in your question to future podcasts as Chris answers those as well.
This episode of In The Trenches is brought to you by MyBookie. The place to bet on football every weekend. MyBookie has live, in-game betting on every NFL game. They've got the most rewarding player perks in the business and for you fantasy guys out there, you can even bet the over/under on how many fantasy points a player will score each game. This year, they're hosting the first online handicapping SuperContest. First place is guaranteed to win at least $100,000 and it only costs $100 to enter. Plus, MyBookie will double your first deposit up to $1000 if you use the promo code LANDRY. Bet. Win. Get Paid. MyBookie!
Follow Chris Landry on Twitter and make sure to visit LandryFootball.com!
Subscribe to the Landry Football Podcast on Apple Podcasts, Stitcher, TuneIn Radio, and Google Play.
Podcast: Play in new window | Download | Embed