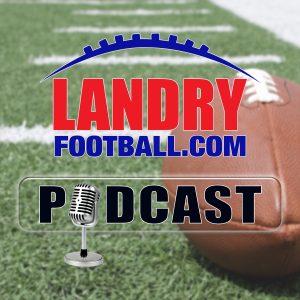 Today on The Landry Football Podcast, veteran scout/coach Chris Landry breaks down the ever changing role of safeties in today's football in his ongoing series of teaching the insights of playing and coaching the game at the highest level.
Also, he explains how and why some teams and player agents use the media to get their message out for public consumption and how some media members are totally unaware of how they are being used.
Get the most unique insight into the game of football that you will not hear anywhere else from a veteran coach and scout at LandryFootball.com.
This episode of the Landry Football Podcast is brought to you by CBS Sports HQ, a network that streams live 24/7, and they have coverage that's just focused on the game. No fake debates. No politics. Just sports for real sports fans. Open the CBS Sports app and watch any time from anywhere on your phone or at home on your Apple TV, Roku or Fire TV. It couldn't be easier. Download the CBS Sports app and watch CBS Sports HQ today!
Follow Chris Landry on Twitter and make sure to visit LandryFootball.com!
Subscribe to the Landry Football Podcast on Apple Podcasts, Stitcher, TuneIn Radio, and Google Play.
Podcast: Play in new window | Download | Embed