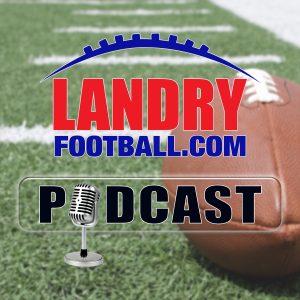 Today on The Landry Football Podcast, veteran scout/coach Chris Landry continues his clinic on offensive line play by explaining how you can tell run or pass before the ball is snapped, what "seeing hat" means, and what the "3-step rule" is and why it will tell you the success of the play before completion. Also, you'll understand "Mike Calls" and "Line Splits" when you get done listening to this podcast.
Chris also answers your questions including what has really happened at Florida State in the later stages of Jimbo Fisher to the early stages of Willie Taggart.
Get your football education from the guy NFL teams and College programs turn to at LandryFootball.com.
Follow Chris Landry on Twitter and make sure to visit LandryFootball.com!
Subscribe to the Landry Football Podcast on Apple Podcasts, Stitcher, TuneIn Radio, and Google Play.
Podcast: Play in new window | Download | Embed