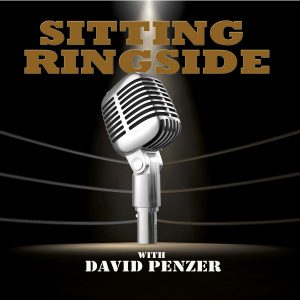 David Penzer was a guest this week on Prime Time With Sean Mooney so it's only fair that Sean sit in with David this week on Sitting Ringside!
It's an interesting conversation between two guys who are normally the ones asking the questions, not answering them. Sean talks about how he wasn't really a wrestling fan growing up in the Tucson area because they didn't get a lot of wrestling on TV in the area, his start in broadcasting and working with the likes of Tim McCarver, Mel Allan, and Joe Namath (who gave him dating advice), his time working for Major League Baseball, the gig that got him into the wrestling business, his first meeting with Vince McMahon, working with Bobby "The Brain" Heenan, Gorilla Monsoon, "Mean" Gene Okerlund, why he left the WWF, why he never went to WCW, and so much more.
Also, before the guys chat, David gives his take on Saturday night's AEW event, "Fight For The Fallen."
Thanks for listening and don't forget the and review the show on Apple Podcasts and Stitcher!
Make sure to follow David Penzer and "Sitting Ringside" on Twitter!
You can find the show on Apple Podcasts, Stitcher, TuneIn Radio, and Google Play!
Podcast: Play in new window | Download | Embed