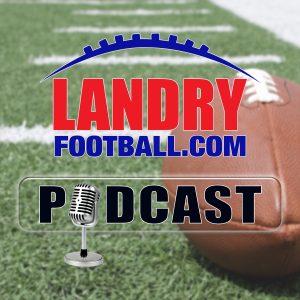 Today on The Landry Football Podcast, veteran scout/coach Chris Landry continues his "X's & O's Series" by explaining how a receiver reads coverages and how his routes must always correspond with the pass drop of the quarterback. He explains how routes are called, how they are adjusted pre and post snap, and how and why the quarterback and wide receiver have to be in sync and see the same things. Plus, he'll explain how to simplify things to avoid confusion but explain how that also makes it easier for the defense and teach you how to properly catch a football and improve that area of the game.
Also, he answers your questions so be sure to send yours in to contact Chris on LandryFootball.com.
Follow Chris Landry on Twitter and make sure to visit LandryFootball.com!
Subscribe to the Landry Football Podcast on Apple Podcasts, Stitcher, TuneIn Radio, and Google Play.
Podcast: Play in new window | Download | Embed