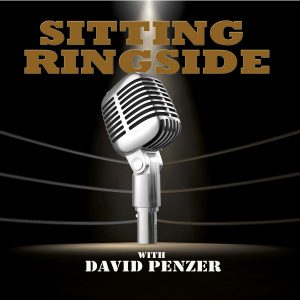 This week on Sitting Ringside, David Penzer is joined by New Japan Wrestling and Ring Of Honor superstar David Finlay Jr. This fourth generation wrestler is looking to blaze his own path in the wrestling business and wants to prove that he's more than just "Fit Finlay's son."
Finlay talks about knowing when he was very young that he wanted to follow in the family's footsteps and talks about how far back the family really goes in the wrestling business. He also talks about training with his father, why he wanted to go to New Japan as opposed to heading straight to WWE NXT, the differences in training in Japan and the States, working with Ring Of Honor, and how his 2019 is shaping up.
This is an extremely personal show for David Penzer as one of his closest friends in the wrestling industry is Fit Finlay. David Finlay is the same age as Penzer kids and they grew up around each other. It's a fun listen and we hope you enjoy it as much as we did.
Thanks for listening and don't forget the and review the show on Apple Podcasts and Stitcher!
Make sure to follow David Penzer and "Sitting Ringside" on Twitter!
You can find the show on Apple Podcasts, Stitcher, TuneIn Radio, and Google Play!
Podcast: Play in new window | Download | Embed