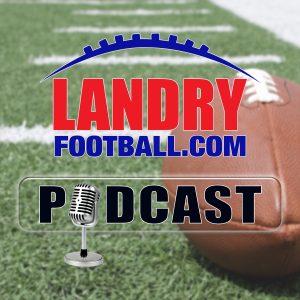 With all the talk of playoff expansion, veteran scout/coach Chris Landry weighs in to separate truth from fiction. It doesn't get much bigger for an NFL regular season game than Thursday night's Chargers/Chiefs matchup. Chris breaks down why and how this might play out. Also, he explains if the Cowboys and Bears could potentially challenge the favorites in the NFC, whether the Vikings can rebound and claim the 6th seed.
All the NFL key matchups and the opening weekend of Bowl matchups are previews along with some coaching search and recruiting updates.
Don't forget to sign up for the FREE email newsletter — THE WAR ROOM — to get the latest inside scoop as well as what's trending on LandryFootball.com.
This week's podcast is presented by Mack Weldon. Simply put, Mack Weldon is better than whatever you're wearing right now. They are a premium men's essentials brand that believes in smart design and premium fabrics. Mack Weldon will be the most comfortable underwear, socks, shirts, undershirts, hoodies and sweat pants and more that you will ever wear. They have a line of Silver Underwear and shirts that are naturally antimicrobial, which means they eliminate odor. For the Landry Football listeners, get 20% off your first order by visiting MackWeldon.com and enter the promo code "LANDRY" at checkout.
Follow Chris Landry on Twitter and make sure to visit LandryFootball.com!
Subscribe to the Landry Football Podcast on Apple Podcasts, Stitcher, TuneIn Radio, and Google Play.
Podcast: Play in new window | Download | Embed