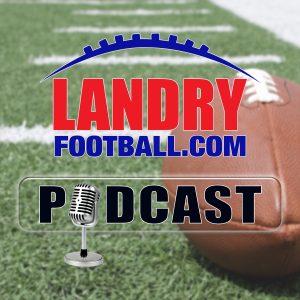 Not a shortage of news today as veteran scout/coach Chris Landry talks about Urban Meyer's decision to step down as head coach of the Ohio State Buckeyes. Chris gives you the details on how this decision came down from speaking with Urban during the course of this season. Learn why Urban and athletic director Gene Smith feel so strongly about new coach Ryan Day.
Also, he discusses the college playoff committee's decision on selecting the top 4 teams and how Chris sees the matchups, the decision of USC to hire Kliff Kingsbury as offensive coordinator, and other coaching searches in college and NFL that he goes into great depth on LandryFootball.com.
Finally, he tackles the College Football Playoff Committee's decision on selecting the top 4 teams and how Chris sees the matchups and takes you around the NFL playoff races and tells you what he's seeing on film.
This episode of the Landry Football Podcast is brought to you by Romans. They are a one-stop-shop where licensed US physicians can diagnose ED and ship medication right to your door. With Roman, there are no waiting rooms, awkward face-to-face conversations, or uncomfortable trips to the pharmacy. You can handle everything discreetly online. For a free online visit, go to GetRoman.com/LANDRY, fill out a brief medical onboarding, chat with a doctor, and get FDA-approved ED meds delivered to your door in discreet, unmarked packaging.
Follow Chris Landry on Twitter and make sure to visit LandryFootball.com!
Subscribe to the Landry Football Podcast on Apple Podcasts, Stitcher, TuneIn Radio, and Google Play.
Podcast: Play in new window | Download | Embed