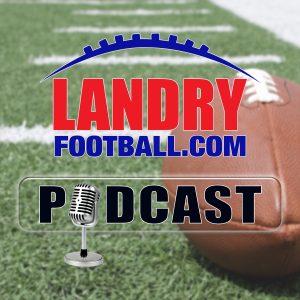 On today's episode of the Landry Football Podcast, veteran scout/coach Chris Landry tells you what he would do with the Alabama quarterback situation this week, how he feels about College Football scheduling, the need for a college football commissioner, and the latest on some coaching searches.
Chris answers your questions about Urban Meyer's future, the potential and future of the Missouri program, and whether the Vikings can make a run towards the Rams and Saints in the NFC. He also breaks down what the film showed in this weekend's matchups in college and the NFL.
So much information and so little time. Join us today for the latest Landry Football Podcast.
This episode of the Landry Football Podcast is brought to you by Enclosed. Why not give your wife something that really reflects and deepens the connection between the two of you? Something that you would NEVER give your mother. Join the more than 30,000 couples that love Enclosed. Just go to EnclosedLingerie.com, enter the code LANDRY at checkout, and get $25 off any Enclosed gift.
Follow Chris Landry on Twitter and make sure to visit LandryFootball.com!
Subscribe to the Landry Football Podcast on Apple Podcasts, Stitcher, TuneIn Radio, and Google Play.
Podcast: Play in new window | Download | Embed