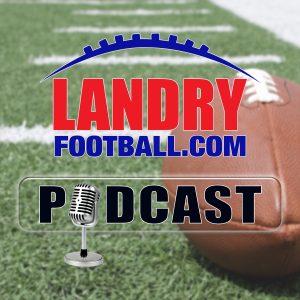 On today's podcast, Chris breaks down what happened in College Football this past weekend with a focus on why Alabama is so dominant and what LSU needs to do to improve their program.
Learn how and why the Tigers have failed to develop their offense over the years and what other programs that he as has helped have done to correct this problem. He also takes you through the top of college football and tells you who is really a contender and who are just pretenders.
The second edition of the College Football rankings are out tonight and he will tell you how things really stand in the film room. He also answers your questions including the coaching staff at Penn State, and the Buccaneers front office.
Speaking of the NFL, Chris tells you how things are sorting out at the top of the NFL food chain. All this and more in today's edition of the Landry Football Podcast.
This episode of the Landry Football Podcast is brought to you by Romans. Roman is a one-stop-shop where licensed US physicians can diagnose ED and ship medication right to your door. With Roman, there are no waiting rooms, awkward face-to-face conversations, or uncomfortable trips to the pharmacy. You can handle everything discreetly online. For a free online visit, go to GetRoman.com/LANDRY, fill out a brief medical onboarding, chat with a doctor, and get FDA-approved ED meds delivered to your door in discreet, unmarked packaging.
Follow Chris Landry on Twitter and make sure to visit LandryFootball.com!
Subscribe to the Landry Football Podcast on Apple Podcasts, Stitcher, TuneIn Radio, and Google Play.
Podcast: Play in new window | Download | Embed