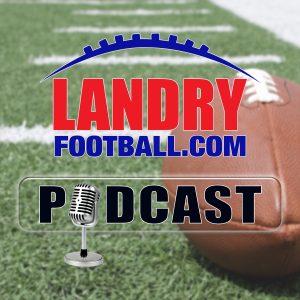 On this episode of the Landry Football Podcast, veteran scout/coach Chris Landry takes a look at all the key games coming up in this weekend including Georgia/Florida and Saints/Vikings, addresses some topics asked by you the listener including why Nick Saban was ready to leave LSU for the NFL when he did after he had turned down other NFL offers prior, the performance of PJ Fleck to this point at Minnesota as well as the career of Lovie Smith in another question.
Also, he explains how some coaches view job differently than fans and why some would choose to go some places and not others,  surprising those on the outside as well as explaining the role of an ever growing number of analysts in the College Football scene.
All this and much more in today's Landry Football Podcast.
If you like this podcast, make sure to subscribe to Rush The Field. It's a brand new podcast hosted by Chris and Scott Seidenberg of NBC Sports Radio is available NOW and is 100% devoted to the College Football game.
Follow Chris Landry on Twitter and make sure to visit LandryFootball.com!
Subscribe to the Landry Football Podcast on Apple Podcasts, Stitcher, TuneIn Radio, and Google Play.
Podcast: Play in new window | Download | Embed