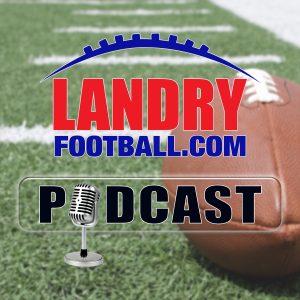 Busy weekend of College Football means lots of breakdowns by veteran scout/coach Chris Landry. This week, he explains to you how a coaching/scouting eye can see through the strength of schedule that most struggle with.
He discusses how you shouldn't make snap judgments week to week about teams and instead watch how a team progresses or regresses during the season. Also, he gives you an insight about offensive play calling, explaining why fans and often media miss the boat about when/why certain plays are called and how teams adjust against them to lead to different play options.
When Chris is finished, you'll have a better understanding of what's going on in these decisions and you'll be able to better evaluate teams as a result. Finally, in addition to breaking down the entire College and NFL landscape, he gives a fascinating story about Paul Allen from an owners meeting.
You'll get all of this and so much more in today's Landry Football Podcast.
If you like this podcast, make sure to subscribe to Rush The Field. It's a brand new podcast hosted by Chris and Scott Seidenberg of NBC Sports Radio is available NOW and is 100% devoted to the College Football game.
Follow Chris Landry on Twitter and make sure to visit LandryFootball.com!
Subscribe to the Landry Football Podcast on Apple Podcasts, Stitcher, TuneIn Radio, and Google Play.
Podcast: Play in new window | Download | Embed