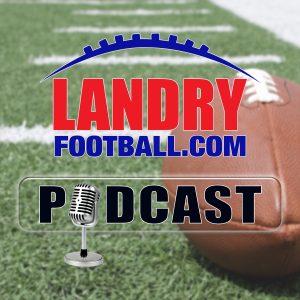 A big weekend of football is on tap and Chris has all the film room nuggets to help get you prepared for the exciting slate in College and the NFL.
He also answers your questions including one which asks Chris how he sees the future of the SEC Football programs and who will be contenders and pretenders in the next 3-5 years. Things are always what they appear to be to the untrained eye. Hear an objective viewpoint from someone that College and NFL teams turn to for advice.
Chris also explains what tends to go wrong with place kickers and how to properly evaluate and correct the mistakes of kickers. Get a field goal kicking clinic unlike anything you've ever heard.
All this and much more in today's episode of the Landry Football Podcast.
If you like this podcast, make sure to subscribe to Rush The Field. It's a brand new podcast hosted by Chris and Scott Seidenberg of NBC Sports Radio is available NOW and is 100% devoted to the College Football game.
Follow Chris Landry on Twitter and make sure to visit LandryFootball.com!
Subscribe to the Landry Football Podcast on Apple Podcasts, Stitcher, TuneIn Radio, and Google Play.
Podcast: Play in new window | Download | Embed