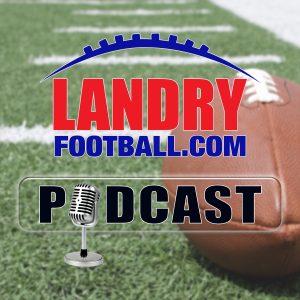 With the initial official committee team rankings due to come out later this month, learn how a veteran coach and scout evaluates college teams as compared to the committee and those in the media. Get a true understanding of why most stats do not matter and why the film and grading players, teams, and coaching performance to a base standard is the only way to cut through to determine who the best teams are. Spending the time studying tape with a trained and objective eye is the only way to cut through the nonsense by talking heads with limited knowledge and training. Chris also gets you ready for all the key College and NFL match ups on the weekend and answers your questions in today's episode of the Landry Football Podcast.
This episode of the Landry Football Podcast is brought to you by Vivid Seats. Vivid Seats is an online event ticket marketplace dedicated to providing fans of live entertainment with experiences that last a lifetime. Go to the App Store or Google Play and download the Vivid Seats app. Enter promo code INFLUENCE to receive 10% off your first purchase with Vivid Seats.
If you like this podcast, make sure to subscribe to Rush The Field. It's a brand new podcast hosted by Chris and Scott Seidenberg of NBC Sports Radio is available NOW and is 100% devoted to the College Football game.
Follow Chris Landry on Twitter and make sure to visit LandryFootball.com!
Subscribe to the Landry Football Podcast on Apple Podcasts, Stitcher, TuneIn Radio, and Google Play.
Podcast: Play in new window | Download | Embed