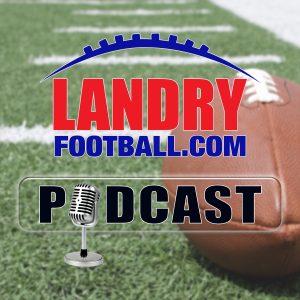 Tuesdays during football season are normally reserved for sole evaluations of the games this past week and Chris does breakdown in detail the weekend that was in College Football and the NFL but before he does, he takes a step back into his background as a player, coach, scout and administrator in the world of football and discusses the erosion of the team concept that exists today in all levels of football and explains why we have gotten to this point. He even offers some solutions and examples from other sports. Hear an impassioned take from someone who's one life has been nothing but football.
This episode of the Landry Football Podcast is brought to you by Vivid Seats. Vivid Seats is an online event ticket marketplace dedicated to providing fans of live entertainment with experiences that last a lifetime. Go to the App Store or Google Play and download the Vivid Seats app. Enter promo code INFLUENCE to receive 10% off your first purchase with Vivid Seats.
If you like this podcast, make sure to subscribe to Rush The Field. It's a brand new podcast hosted by Chris and Scott Seidenberg of NBC Sports Radio is available NOW and is 100% devoted to the College Football game.
Follow Chris Landry on Twitter and make sure to visit LandryFootball.com!
Subscribe to the Landry Football Podcast on Apple Podcasts, Stitcher, TuneIn Radio, and Google Play.
Podcast: Play in new window | Download | Embed