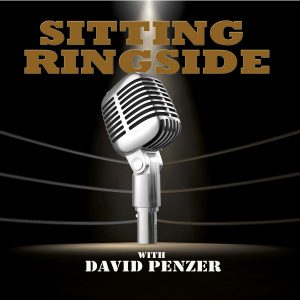 This week on Sitting Ringside, David Penzer is joined by the voice of Lucha Underground and MLW, Matt Striker. After being trained by Johnny Rodz, Striker and working the independent scene and Japan for a few years, he made his debut in the WWE in 2005. What you may not have known is that Striker, a school teacher at the time, loved the pro wrestling business so much that he would use his vacation time and sick days to travel around to make dates. The school board he worked for caught wind of it and let him go. This story made national headlines, which led to appearances on national cable news networks. Those appearances caught the eye of WWE officials and that's what led to hiring.
Striker discusses how he fell in love with the business as a child, working as a child actor in the movie "The Wise Guys" and other projects, how he hooked up with Johnny Rodz in the first place, his WWE debut against Kurt Angle, working with Roddy Piper, his time in NXT, why he ultimately left the WWE, becoming a commentator and being the only announcer to ever work a Wrestlemania, Triplemanía, and Wrestle Kingdom, his involvement in Lucha Underground and MLW, what he thinks the business needs today, and so much more.
This is a great conversation with one of the smartest guys in the wrestling business today.
This episode of Sitting Ringside is brought to you by Vivid Seats. Vivid Seats is an online event ticket marketplace dedicated to providing fans of live entertainment with experiences that last a lifetime. Go to the App Store or Google Play and download the Vivid Seats app. Enter promo code INFLUENCE to receive 10% off your first purchase with Vivid Seats.
Thanks for listening and don't forget the and review the show on Apple Podcasts and Stitcher!
Make sure to follow David Penzer and "Sitting Ringside" on Twitter!
You can find the show on Apple Podcasts, Stitcher, TuneIn Radio, and Google Play!
Podcast: Play in new window | Download | Embed