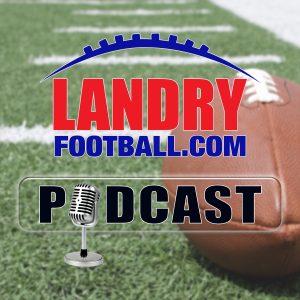 Chris gives you his coaching perspective on the Kelly Bryant situation and the whole transfer rule and it's affect on team play.  It's another big weekend on the College and NFL landscape and he takes you through all the match ups giving you a trained eye viewpoint on what to look for in these games. From Ohio State/Penn State to Stanford/Notre Dame to some of the other key match ups involving key conference opponents.  It's week four in the NFL and he takes you through the league at some of the big early season games and what to look for in those match ups.
Chris is always here to answer your questions and he does so again today addressing things like Oklahoma's defensive issues, properly identifying later round draft prospects that ate make it types in the NFL as well as explaining why the Patriots have struggled over the years with drafting receivers.
This episode of the Landry Football Podcast is brought to you by Vivid Seats. Vivid Seats is an online event ticket marketplace dedicated to providing fans of live entertainment with experiences that last a lifetime. Go to the App Store or Google Play and download the Vivid Seats app. Enter promo code INFLUENCE to receive 10% off your first purchase with Vivid Seats.
If you like this podcast, make sure to subscribe to Rush The Field. It's a brand new podcast hosted by Chris and Scott Seidenberg of NBC Sports Radio is available NOW and is 100% devoted to the College Football game.
Follow Chris Landry on Twitter and make sure to visit LandryFootball.com!
Subscribe to the Landry Football Podcast on Apple Podcasts, Stitcher, TuneIn Radio, and Google Play.
Podcast: Play in new window | Download | Embed