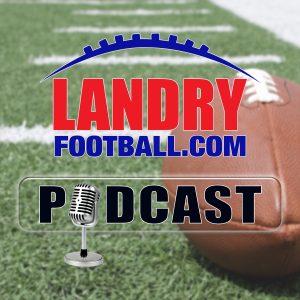 Today on the Landry Football Podcast, veteran scout and coach Chris Landry breaks down a big week of football, giving you an idea of how these teams stack up inside the Film Room. He addresses the status of the programs at Tennessee and Nebraska and explains what the ceiling potential is for both programs under their new coaches, whether Texas is back or not, and if there even is a second best team in the East and West of the SEC. Also, he tells you the playoff potential of the Pac-12 as well as a look at some of the interesting match ups this weekend can affect the long range outlook this season.  He also answers a couple of questions from some disgruntled ACC fans about their future coaching outlook.
In the NFL, Chris tells when and where it's time to be concerned and where it's time to be patient.  Are the Rams the most complete team on film thus far this season?
Chris addresses this and and answers more listener questions in today's Podcast.
This episode of the Landry Football Podcast is brought to you by Vivid Seats. Vivid Seats is an online event ticket marketplace dedicated to providing fans of live entertainment with experiences that last a lifetime. Go to the App Store or Google Play and download the Vivid Seats app. Enter promo code INFLUENCE to receive 10% off your first purchase with Vivid Seats.
If you like this podcast, make sure to subscribe to Rush The Field. It's a brand new podcast hosted by Chris and Scott Seidenberg of NBC Sports Radio is available NOW and is 100% devoted to the College Football game.
Follow Chris Landry on Twitter and make sure to visit LandryFootball.com!
Subscribe to the Landry Football Podcast on Apple Podcasts, Stitcher, TuneIn Radio, and Google Play.
Podcast: Play in new window | Download | Embed