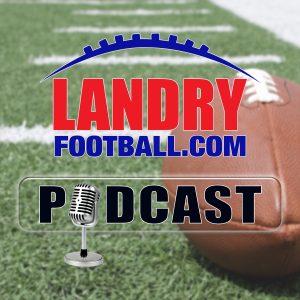 The Football weekend is ahead and Chris takes you through the big Saturday and Sunday matchups. All the big games are covered with an overview of how the games might shake out.
With a big game in the Pac 12, Chris also takes a hard look at the state of affairs in the conference and how they can improve their programs going forward. Have been used as a consultant by a number of programs, Chris offers some real insights into what some of their problems have been over the years and how they can improve their lot going forward.
Several teams are in desperate for a win in the NFL and Chris will briefly cover all the games starting with tonight's Jets/Brown game through Monday's Steelers/Bucs affair. Non-stop in depth from the Film room football talk from veteran Coach and Scout Chris Landry right here on the Landry Football Podcast.
This episode of the Landry Football Podcast is brought to you by Vivid Seats. Vivid Seats is an online event ticket marketplace dedicated to providing fans of live entertainment with experiences that last a lifetime. Go to the App Store or Google Play and download the Vivid Seats app. Enter promo code INFLUENCE to receive 10% off your first purchase with Vivid Seats.
If you like this podcast, make sure to subscribe to Rush The Field. It's a brand new podcast hosted by Chris and Scott Seidenberg of NBC Sports Radio is available NOW and is 100% devoted to the College Football game.
Follow Chris Landry on Twitter and make sure to visit LandryFootball.com!
Subscribe to the Landry Football Podcast on Apple Podcasts, Stitcher, TuneIn Radio, and Google Play.
Podcast: Play in new window | Download | Embed