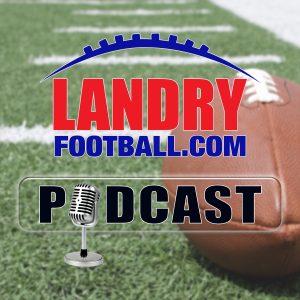 On today's Landry Football Podcast, veteran scout/coach Chris Landry explains why people are missing the real story from the Auburn/LSU game last weekend and tells you what the film truly reveals about both teams. He explains the separation that exists among college teams this year and while there are many decent to good teams, there are only a handful of elite ones. He takes you through last week's film room glance at all the top action with an eye towards this week.
On the NFL side, he explains the slow starts by some teams and what to look for to truly determine the contenders from the pretenders.
Take a deep dive into the worlds of college football and NFL with the veteran coach and scout.
This episode of the Landry Football Podcast is brought to you by Vivid Seats. Vivid Seats is an online event ticket marketplace dedicated to providing fans of live entertainment with experiences that last a lifetime. Go to the App Store or Google Play and download the Vivid Seats app. Enter promo code INFLUENCE to receive 10% off your first purchase with Vivid Seats.
Also, MyBookie is slammed with new bettors and wants to give everyone the best service possible. Visit MyBookie today and don't forget to use the promo code LANDRY when creating your account to claim up to $1,000 in free play. Also, if you're willing to hold out until after 7 p.m.EST, you can get an extra $25 free play by using promo code LANDRY25. Visit MyBookie today!
If you like this podcast, make sure to subscribe to Rush The Field. It's a brand new podcast hosted by Chris and Scott Seidenberg of NBC Sports Radio is available NOW and is 100% devoted to the College Football game.
Follow Chris Landry on Twitter and make sure to visit LandryFootball.com!
Subscribe to the Landry Football Podcast on Apple Podcasts, Stitcher, TuneIn Radio, and Google Play.
Podcast: Play in new window | Download | Embed