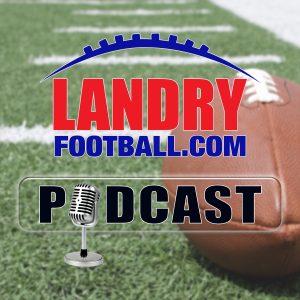 Join Chris as he takes a deep dive into the College and NFL matchups of the weekend. LSU/Auburn, Ohio St./TCU, Alabama/Ole Miss are just a few of the matchups he touches on telling you how they have looked after studying tape and what to look for in this weekend's game.
He does the same for all the NFL matchups this weekend, focusing on the some teams that are potentially looking at an 0-2 start. Get ready for this week's action. Whether you are a fantasy fan or want a better feel for how these games might, the LandryFootball Podcast is for you.
Today's episode of the Landry Football Podcast podcast is presented by DraftKings. To celebrate Week One, DraftKings is hosting a FREE Team Pick 'Em promo. Download the app or go to DraftKings.com NOW and use code LANDRY. All you have to do is pick at least HALF of the winning teams correctly and you'll win a share of A MILLION BUCKS! That's the promo code LANDRY only at DraftKings, the game inside the game!
If you like this podcast, make sure to subscribe to Rush The Field. It's a brand new podcast hosted by Chris and Scott Seidenberg of NBC Sports Radio is available NOW and is 100% devoted to the College Football game.
Follow Chris Landry on Twitter and make sure to visit LandryFootball.com!
Subscribe to the Landry Football Podcast on Apple Podcasts, Stitcher, TuneIn Radio, and Google Play.
Podcast: Play in new window | Download | Embed