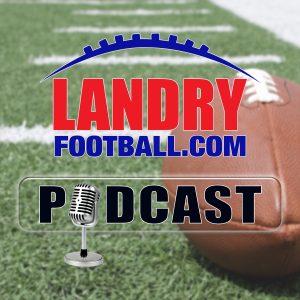 The first big weekend of College Football gets underway tonight and veteran scout and coach Chris Landry has all the breakdowns going in depth on Auburn/Washington, Notre Dame/Michigan and LSU/Miami as well as touching on some key elements of many other matchups.
Also, he has a special message for you NFL Fantasy Football players as well as a complete breakdown of the new contracts of Aaron Rodgers and Odell Beckham as well as an analysis of the Teddy Bridgewater trade.
All this and he answers your question on today's LandryFootball podcast.
Today's episode of the Landry Football Podcast podcast is presented by DraftKings. To celebrate Week One, DraftKings is hosting a FREE Team Pick 'Em promo. Download the app or go to DraftKings.com NOW and use code LANDRY. All you have to do is pick at least HALF of the winning teams correctly and you'll win a share of A MILLION BUCKS! That's the promo code LANDRY only at DraftKings, the game inside the game!
If you like this podcast, make sure to subscribe to Rush The Field. It's a brand new podcast hosted by Chris and Scott Seidenberg of NBC Sports Radio is available NOW and is 100% devoted to the College Football game.
Follow Chris Landry on Twitter and make sure to visit LandryFootball.com!
Subscribe to the Landry Football Podcast on Apple Podcasts, Stitcher, TuneIn Radio, and Google Play.
Podcast: Play in new window | Download | Embed