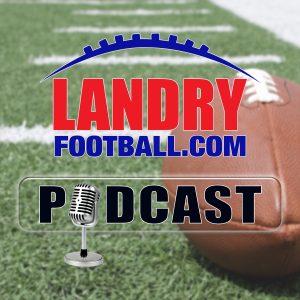 It's week zero in College Football and the Week 3 of the NFL Preseason. Veteran scout/coach Chris Landry gets you updated on all things football from the latest in College Football practices to the break out stars of the NFL Preseason. He'll give you the latest on the Ohio State situation, Khalil Mack's status, the NFL's Helmet Rule, and the bright future of young quarterbacks in the league. Also, as usual, he answers your questions.
There's so much information and analysis in this show so buckle up and enjoy the ride. We've got you covered.
If you like this podcast, make sure to subscribe to Rush The Field. It's a brand new podcast hosted by Chris and Scott Seidenberg of NBC Sports Radio starting tomorrow, Wednesday, August 21st, and is 100% devoted to the College Football game.
Get ready for the season by joining LandryFootball.com and be sure you subscribe to the Landry Football Podcast for FREE each Tuesday and Thursday all year long!
Follow Chris Landry on Twitter and make sure to visit LandryFootball.com!
Subscribe to the Landry Football Podcast on Apple Podcasts, Stitcher, TuneIn Radio, and Google Play.
Podcast: Play in new window | Download | Embed